This document is intended to provide general guidelines for understanding which NoMachine products and licenses are necessary to provide access to the physical desktop of a remote computer. The remote computer can be a Windows, Mac, or Linux and it can be your own physical or virtual machine either on-premises or hosted in a cloud.
Definitions
To access the computer's desktop remotely, NoMachine Enterprise Desktop needs to be installed on that computer. The Enterprise Desktop is a server which allows users to connect to the physical desktop of its host.
Connections to the physical deskop (or physical display) are connections to the desktop environment installed on the remote computer. The desktop environment provides the computer's graphical interface, i.e. the main screen you can see when logging-in to the computer physically.
In case of Linux hosts booted in CLI (command-line-interface) mode, such as for example headless hosts, NoMachine provides a way to access them in UI mode. Pre-requisite is that a desktop environment (e.g. GNOME, Xfce etc ...) is installed there.
The Enterprise Desktop permits multiple concurrent connections to the desktop: this means that different users can access the same desktop and share it (session collaboration).

Multiple users cannot connect to their own individual desktop at the same time i.e Terminal services is not supported. Terminal Services (or "virtual desktops") is available only with Terminal Server Products for Linux.
When a NoMachine user is connected, the physical monitor of the remote computer can be blanked (screen blanking) with local mouse/keyboard locked down, and audio can be muted to protect the privacy of the user connected remotely.
Screen blanking can be used in conjunction with the automatic lock of the remote screen: when the user disconnects, as soon as the screen is unblanked, the system lock screen will be activated automatically to keep the remote desktop protected even when the computer is running unattended.
.
A schematic diagram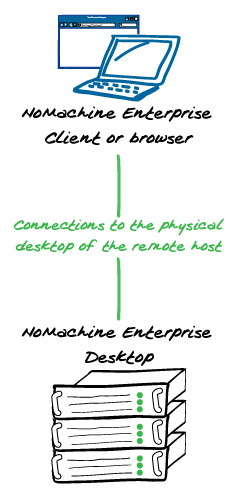 .
This solution is suitable for small/medium business.
.
Licensing
To give access to the physical desktop of a computer, you need
1 NoMachine Enterprise Desktop license for the computer, either a Mac, Windows or Linux.
.
On the end-user's computer install NoMachine Enterprise Client (which is free to use) or connect by the web via browser.
.
Typical use cases
The Enterprise Desktop host can be installed either on a physical computer or a virtual machine (VM). Users can connect from any browser-enabled device or can install NoMachine Enterprise Client. Client-server connections can be over the internet or in a private network (LAN,VPN) via the secure native protocol NoMachine NX or the SSH industry protocol.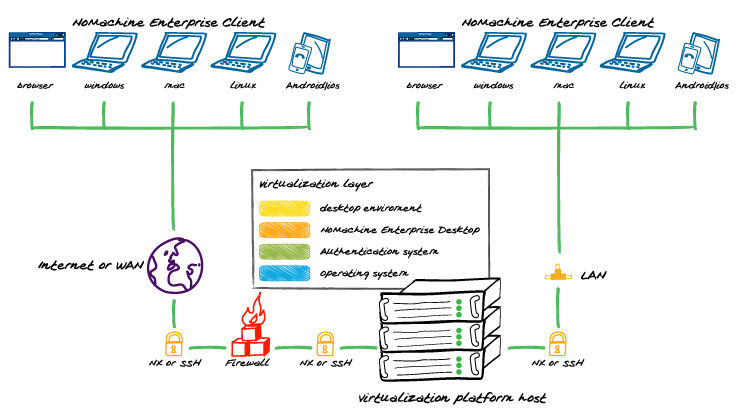 .

TIP
Multiple NoMachine Enterprise Desktops, even in different geographical locations, can be federated under a Cloud Server, which provides a single point of access to different subsystems.