This document is intended to provide general guidelines for understanding which NoMachine products and licenses are necessary to provide remote access to virtual desktops and single applications running on a single Linux host (Terminal Services). The remote computer can be your own physical or virtual machine either on-premises or hosted in a cloud .
Definitions
To create virtual desktops on the remote computer, NoMachine Workstation or Small Business Server or Terminal Server needs to be installed on that computer.
A NoMachine virtual desktop is an individual instance of the remote desktop. Instead of running a virtual instance of the whole remote desktop, it's also possible to execute single applications. These two functionalities are available only with NoMachine servers on Linux ('NoMachine Terminal Server' family).
A schematic diagram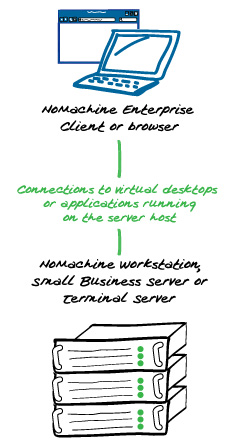 This solution is suitable for small/medium business.
Licensing
Pre-requisite to providing access to the remote Linux machine is to install any of the NoMachine servers from the 'Terminal Server' family, i.e.:
1 NoMachine Workstation license if you plan to have up to four virtual desktops
or 1 NoMachine Small Business Server license for up to ten concurrent virtual desktops (on demand, contact the Sales Team for available options)
or 1 NoMachine Terminal Server license for more than ten concurrent virtual desktops (unlimited).
On the end-user's computer install NoMachine Enterprise Client (which is free to use) or connect by the web via browser. All of the above-mentioned products include access via the browser.
Minimum requirements
This scenario typically has installed:
1 NoMachine Workstation or Small Business Server or Terminal Server on a Linux host (a machine called "A").
Typical use cases
The following diagram shows a general infrastructure built on top of a virtualized O.S. as the server host. A similar infrastructure can be set-up also for a physical server host machine. Note that client – server connections can be over the internet or on a private network (LAN). Users can connect by NoMachine client via the secure native NoMachine NX protocol, the SSH protocol or by browser (web sessions) via HTTPS. Password and key-based authentication methods, as well as Kerberos tickets and two-factor authentication are supported.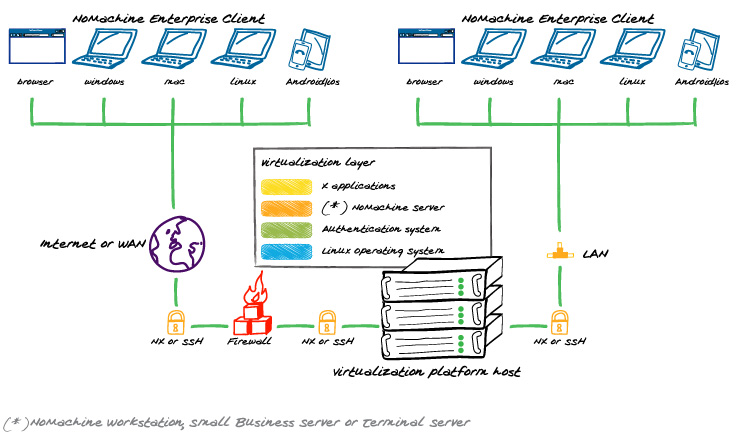 Scalability
This solution provides individual instances of the remote desktops (virtual desktops) and applications hosted on a single Linux computer. Workstation allows 4 virtual desktop sessions, Small Business Server allows 10 and Terminal Server provides an unlimited number. In the case of a larger number of users, you may consider setting up a multi-host environment with NoMachine Enterprise Terminal Server to distribute virtual desktops and applications among Terminal Server Node hosts. This solution allows load-balancing of sessions among multiple hosts. High-availability of virtual desktops is also possible by setting-up a failover cluster between two NoMachine Enterprise Terminal Server hosts.

TIPS
The NoMachine host can be either a physical computer or a virtual machine.
Multiple NoMachine Workstation or Terminal Server (not the Small Business Server!), even in different geographical locations, can be federated under a Cloud Server, which provides a single point of access to different subsystems.